Our unbeatable set of facilities include a big sitting area with stunning views from the panoramic roof terrace, free to use Wi-Fi Internet access all over the place, and much more.
* PERFECTLY CENTRALLY LOCATED.
+ We have the city's tourist attractions, outdoor markets, restaurants, clubs, and bars all just around the hostel (Website hidden by Airbnb)
+ We're within one-minute walking distance from the central bus station as well.
+ Apartment is perfectly located in the city center, still, you will be well hidden from the street noise.
* Here you can get each day of your stay:
+Unlimited high-speed Internet access and WiFi connection all over the hostel
+tea
+Clean and fresh sheets, blanket, pillow, towels
+ 24-hour running hot water
+ Security access entrance keys
+ modern fully equipped kitchen
+ Belgrade map with the highlight (Website hidden by Airbnb)
FACILITIES
Sunny rooms:
+ Bright, spacious, spotless rooms – to make you feel relaxed and enjoy.
+ 32-inch plasma screen TV with 50 international and movie channels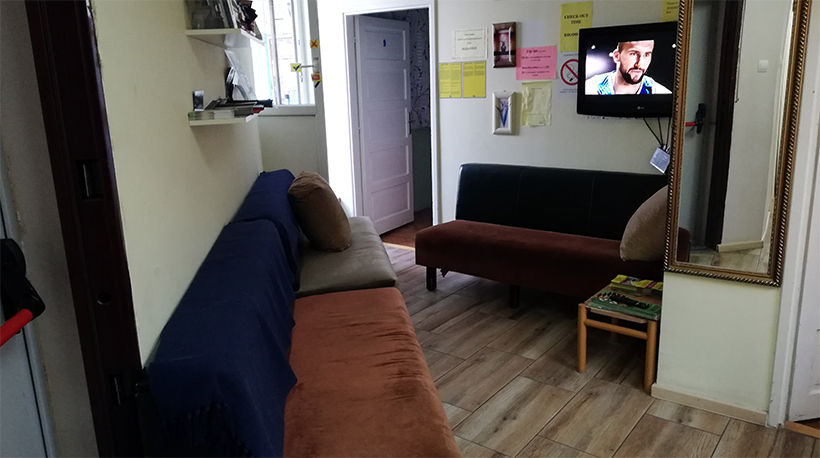 + Computer with high-speed Internet access and WiFi connection all over the apartment.
+ Book Exchange
+ Fully equipped guest kitchen and dining area
+ Brand new spotless bathrooms with 24 hours running hot water
+ Hairdryer, iron
+ Travel fresh – we will do your laundry for you
+ CCTV
* FREE full information support for every spot of Serbia.
We are here 24h to help you with whatever information you might need:
– What to see and do in Belgrade and Serbia
– Where to stay
– How to get there
– Maps
– Information, guidebooks, and maps for the surrounding countries
– Bus/trains timetables and ticket reservations
* One-day trips – get immersed in the Serbian culture and history and enjoy our hospitable people and wild nature.
* Welcoming and helpful staff around the clock.
* No curfew, no lockout – enjoy your freedom 🙂 The price stated in the case of renting the whole apartment, including taxes and local taxes.
We're fortunate enough to have a large sunny roof terrace where you can find some peace and quiet away from the hustle and bustle of the city.
Our services include free walking tours, communist tours, squat tours, Sunday B.B.Q. tours, Zemun tours, Underground secrets of Belgrade tours, nightlife tours, bicycle tours, free coffee and tea all day. We also offer cheap van tours (during summertime) to the romantic historical town of Smederevo and Pozarevac.
With so much on offer, you will love!
We have:
one room with a double bed,
two 6 bedrooms (3 bunk beds per room) and
one 4 beds room (2 bunk beds in room).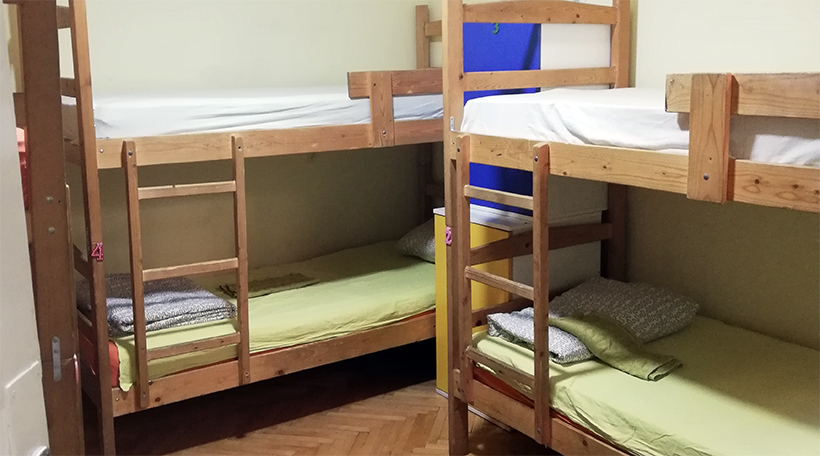 Al rooms are air-conditioned. Common room has it's own cable TV with 100 international and movie channels.
We are located on the fifth floor and have a terrace of 40 sqm with a big sitting area and stunning views from the panoramic roof terrace… No noise from traffic, even though we are in the center of town.
Guest access
It is possible to order breakfast in the hostel for 1 euro, lunch and dinner at the price of 3 euros.
Other things to note
We are located on the fifth floor of a building with no elevator, but:
We're cheap !!!
We have a huge beautiful terrace lounge where you can drink coffee or tea(which is free), order food and have breakfast, lunch, dinner, drink wine or rakia, without disturbing the other guests who rest in the rooms!!!
The hostel is quiet – no traffic noise, sirens and the hinterland from the street so you can peacefully rest!!!
We are located in the center of the city, next to the Kalemegdan, River Sava, ethnic house, Branko's bridge, and many more attractions!!!